Wattpad Creator Caroline A. Richardson (@MustangSabby) has been writing on Wattpad since 2015. One of her most popular stories on the platform is Out of His League, which is now published by W by Wattpad Books. The views and opinions expressed in this article are those of the author and do not necessarily reflect the views and opinions of Wattpad corp. or affiliated companies.
The journey to getting published
When I was in grade school, I think about 12 or 13 years old, I wrote a story about horses. It was a typical short story about a horse-crazy girl and her horse doing amazing things together.
My English teacher Mr. Steeves sat me down with the rumpled dot-matrix printed copy of the story, looked me straight in the eye and said, "Don't stop writing, someday you'll be a published author, I know it".
I started a journey that day.
Fast forward a few years—okay a lot of years—and here I am with a copy of my debut romance novel in my hands. I wish I could show Mr. Steeves that I'm still on the journey, thankful for his encouragement at the trailhead.
My journey to becoming a published author obviously did not happen overnight. I'm in my forties now. I spent years and years penning stories no one will ever see, writing lost to time and hard drive failures. All of it is practice. All of it climbing towards that someday-goal.
Opportunity knocks
When people ask me how my book got to where it is, I tell them I believe I was in the right place at the right time and got lucky. If they ask me to explain it, I expand it to, "I worked hard for a long time so that when luck struck, I was ready." It may sound trite, but I do believe that luck is really opportunities that people are ready to say yes to.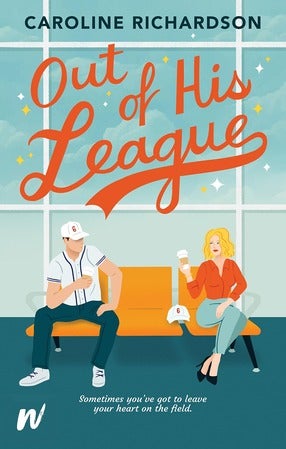 My little practice book, a pure romantic fantasy that spurred from a what-if question, was never what I anticipated being my debut novel, but I embraced the enthusiasm readers had for it. My book made the Wattpad Editor's Pick List in 2019, as well as won a Romance Watty Award in the same year. I said yes to every opportunity I was given after that, including a title change and new cover, and to enter it into the Paid Stories program not long after the Watty win. It broke coin redemption records, and hit a million reads the following year.
I assumed I had hit the jackpot, proud of my book and its success, content with how well it had done.
So, when I signed my name to the Wattpad Books contract for Out of His League, I had essentially embraced the opportunity that would see that someday-goal become a reality. It was the biggest feeling in the world! I had done it. I was going to be a published author.
From that point, it felt like a whirlwind. In reality, from initial contract with Wattpad, to rounds and rounds of edits, to release day, it was close to two years of work behind the scenes to have that physical book in hands by April of 2022.
From serialized fiction to published book
Serialized fiction can be compared to watching a television series, with short episodes released one at a time to make a complete story. You can wait and binge it all when it is done, or you can watch each episode as it is released, hooked in anticipation of the next. In that vein, writing a story on Wattpad is much the same.
On Wattpad, you want to draw your reader in quickly, and end your chapter with a cliffhanger to make them want more. You want to entice them back when the next chapter is ready to read. A serialized story should have short, fast-paced chapters with characters that live or die on the cliffhangers and plot twists you write. You want to move from scene to scene at a pace to keep your readers hooked, commenting, and voting—which will help to motivate you!
On the other hand, a published, physical book is more like a movie. Your reader has already been hooked by the story as a whole, sometimes convinced by the book cover, blurb, and premise alone—or in the comparison to a movie, the trailer. Readers want to sink into a book, and the story flows from one chapter to the next with scenes stitching together seamlessly. You consume the story wholly on its own with no interaction necessary.
Now, take those two story extremes and compare them. Apples and oranges, right? Each is consumed very differently. So believe me when I say that as we started editing my Wattpad story, I saw the differences (and the challenges) ahead of me.
The editing path
When you spy a Wattpad book on a shelf, know that that book was taken from its serialized form and transformed from raw stone on Wattpad to faceted gem on the page. The story—and its author—entered an editing process where it was shaped, smoothed, and polished with the guidance of an editorial team that understood the difference.
I trusted that team from the beginning, because I was a deer in the headlights when I received my editorial letter. For reference, an editorial letter is the beginning steps to a substantive edit. It outlines the goals for the book, the main areas of improvement, and some of the ideas your editor has as you work through your first pass together.
We added scenes, and completely changed how some scenes played out. Chapters were rearranged, some combined, others split. There wasn't one part of the book that wasn't remolded in some way! We considered the target audience, amping romantic beats to provide more impact. I rewrote entire sections, pushing myself to tighten each sentence, using writing muscles I didn't know I had!
It was exciting, and terrifying, and I loved every moment! Not kidding, I think I may have enjoyed editing more than writing the book to begin with! Not only was I participating in an editing process for the first time, I was attending a master class on how to transform my own craft.
Walking forwards
A debut novel can sometimes come roaring onto the bestseller list, or it can be a whisper amongst the cacophony of books available on the shelf. I personally think that this novel, my debut, is a chance for me to listen to both.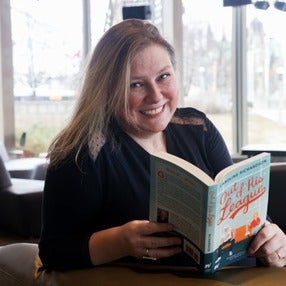 From the roaring success of Out of His League on Wattpad, taking it through the editing and release process, and ultimately understanding its place as it whispered "read me" in a book genre that is the most competitive in the industry, I navigated with an open mind.
I read one star and five star reviews posted to Netgalley and Goodreads right beside one another, repeating "not everyone is your reader". I took each step forward towards release day with the understanding that I was enabling myself to allow the frustrations to mingle with the success to form a whole picture.
As I look ahead to the next published book, I know that I will take all I learned from Out of His League and layer another experience on top of it. We are a sum of our experiences. This is a philosophy I adhere to in many parts of my life, no less so in my writing! Each book will be better written, each publishing experience a different journey, but no less educational. The difference will be how prepared I am as we set out again.
I think I can acknowledge that Wattpad understands that the authors they bring under their banner are often grassroots writers. They know that these creators are just starting on their own journey, climbing that path towards a metaphorical mountain pass, to reach the valley on the other side. The effort is huge, the reward bigger.
I am forever grateful to the Wattpad Books team that shepherded me through that mountain pass on mine, and being patient if it took me awhile to get my snowshoes buckled when we got to the hard parts. The reward? A big goal achieved, and a writing career that is just getting started.
Pre-teen me would be overjoyed, even if the book isn't about horses.