Getting connected



You know how to navigate the five tabs on the Wattpad app, but how do you become a part of the Wattpad community? How do you build relationships with readers and other creators? In this article, we'll cover some quick ways to get connected on Wattpad.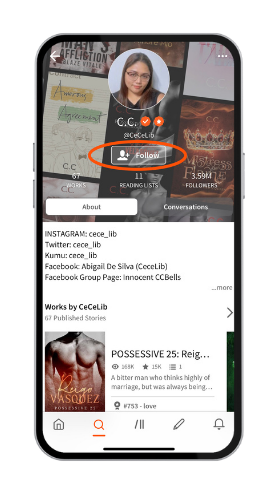 Following other users
Following your friends, other creators, and readers is a great way to stay up-to-date with their activities on Wattpad. Visit their profile and click the Follow button underneath their username to be notified of new stories they start and announcements they send out to all of their followers. You can unfollow a user at any time by clicking the same button.
Commenting
Users on Wattpad share their thoughts with the author or other readers by leaving comments on their stories. This is one of the many engaging features of Wattpad that allow you to connect with readers and creators over the stories you love. You can delete comments on your stories or comments you have left on other stories at any time.
Voting
Voting on a story shows support for a creator and their work. You can vote on a story once per story part, and 100 times in 24 hours. You can view the votes on any of your stories by visiting your profile or the story's page. Votes appear beside the star symbol.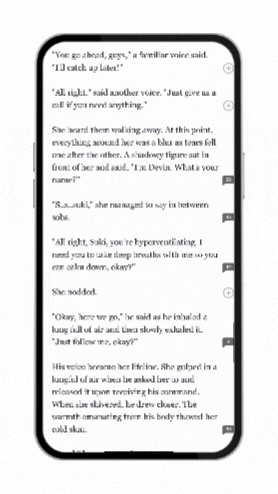 Reactions
Another way to engage with a story is by using Reactions. Reactions function like comments. To share a Reaction, highlight a part of a story that stands out to you, and select a sticker that reflects how you feel about that particular section.
Conversation Boards
Your Conversation Board is a public place to share your thoughts or engage in other conversations. You can post messages on your own Board, post on other Wattpadders' Boards, or reply to messages on Boards. Use this space to share news and updates with your readers. When you post, you'll have the option to "Announce this to my followers," which pushes a notification to everyone who follows you.
Mentioning
Grab another Wattpadder's attention or draw them into a conversation by adding them to a comment or message, or by mentioning them in a story. To mention a user, type @ followed by their username (no space in between).
Muting
Though we encourage interaction and engagement on Wattpad, you may come across Wattpadders who you are not interested in interacting with. Wattpad has a Mute button located on each user's profile that can be used to disable two-way communication between you and that person. Find the Mute button by clicking the three dots at the top right-hand corner of your phone. Muting a user who follows you will remove them from your followers list. Learn more about muting on Wattpad.
Personalizing your profile
Next