Personalizing your profile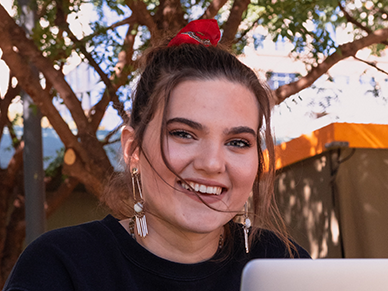 Before you start publishing your stories on Wattpad, you can customize your profile page to tell people about yourself. Keep in mind that your profile information will be visible to all users.
Setting up your profile
Once you have created your account and verified your email, you will be able to customize your profile by updating your name, description, profile picture, and more.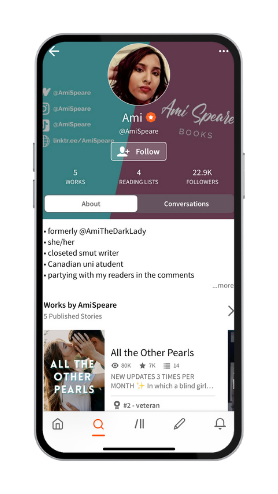 Display name
When you create an account on Wattpad, you'll have a username and a name. Your username is what identifies your account and is unique to you. It's how people will search for you or your stories, tag you in a comment, or dedicate a story to you. Your display name only appears on your profile and does not need to be unique to you. It's for display only, and therefore cannot be used to search your profile, tag you, or dedicate a story to you.
About
Use your 'about' field to tell people more about yourself. Best practices include writing something that lets the Wattpad community know more about you. Think about communicating everything you want others to know about you as a creator, whether that's genres you like, your hobbies, how long you've been writing, or anything else. Your description can be a maximum of 2000 characters in length and cannot include any links. Remember to leave out personal information, like your location or phone number.
Profile picture
Your account will start out with one of our default profile pictures (cute kittens, anyone?), but you'll be able to change your profile picture at any point to personalize your profile and keep it fresh. Your avatar should be clear and visible at a small scale (think: mobile users). Your image should be sized at 128x128px, less than 1MB, and in JPG, PNG, or GIF format.
Background image
You can personalize your profile even further by adding a background image, which can further help tell your story. Your background image could be a collage of your favorite things, a picture of you and your friends, show a scene or picture you love, or even support a cause that's important to you. Your background image should be sized at 1920x600px, under 1MB, and in JPG, PNG, or GIF format.
Language
Wattpad is currently offered in 12 languages. There are two language options that you can adjust on Wattpad:
Story language: This changes the language of the stories that are recommended for you to read
Display language: This changes the language that Wattpad is displayed in
Location
You have the ability to add a location to your account, which will be displayed under the About section on your profile for all to see.
Reading Lists
Your Reading Lists appear on your profile as recommendations and are public to everyone. There is no way to make them private. Your Library and Archive are private.
Stories
Your stories are public by default. There is no way to make them private. Story drafts are private.
It's your profile. Make it look good and people will come check it out!
How to publish your first story
Next