Did you know that 77% of Wattpad readers are likely to read an ongoing story as long as it's updated regularly? If you've ever wished that you could schedule Story Parts in advance, or dreamt of keeping your readers hooked even when you need a writing break, get ready to meet your new secret weapon. Wattpad's brand-new Publishing Scheduler is here! It's the ultimate tool that will allow you to schedule your Story Parts for the future, ensuring your stories never miss a beat.
It's time to take advantage of that writing streak, the power of serialized storytelling, and staying on track with your writing goals. Get ready to schedule Story Parts in advance and say hello to uninterrupted storytelling!
How to use the publishing scheduler
Gone are the days of manually publishing each part of your epic read. To use the Publishing Scheduler, follow the step-by-step instructions below using examples from Wattpad creator CayleighKennedy's Tempting Fate (for web only*).
1. When your Story Part is ready, tap "Publish" on the top right corner of your page.
2. You'll see two options: Schedule or Publish Now. Click Schedule.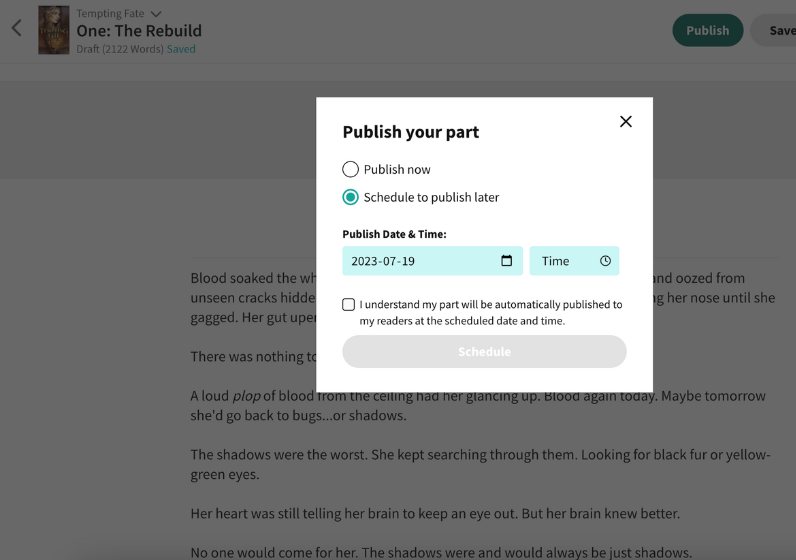 3. Choose the date and time you'd like your readers to have access to your new Story Part. Note: Story Parts can be scheduled up to one year in advance.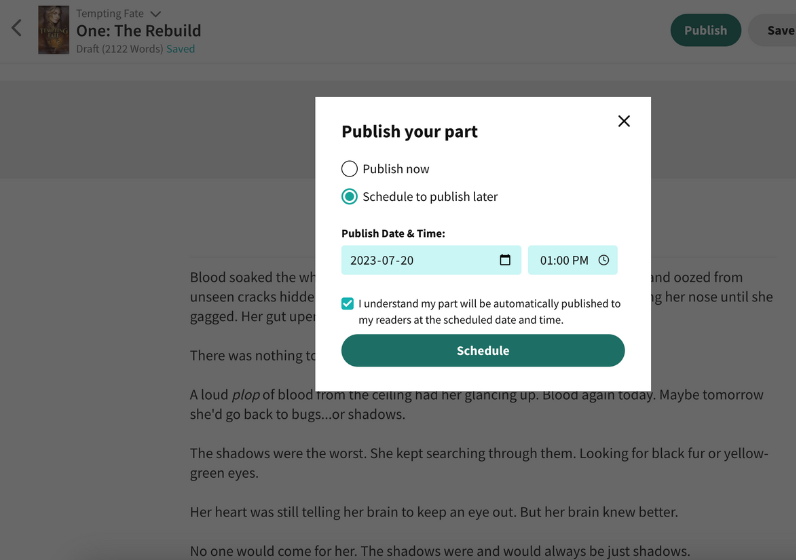 4. Take a moment to double check your selected schedule. Once everything looks good, click the checkbox to confirm your understanding. Click Schedule.
Congratulations, you've successfully scheduled your story part! It's as simple as that.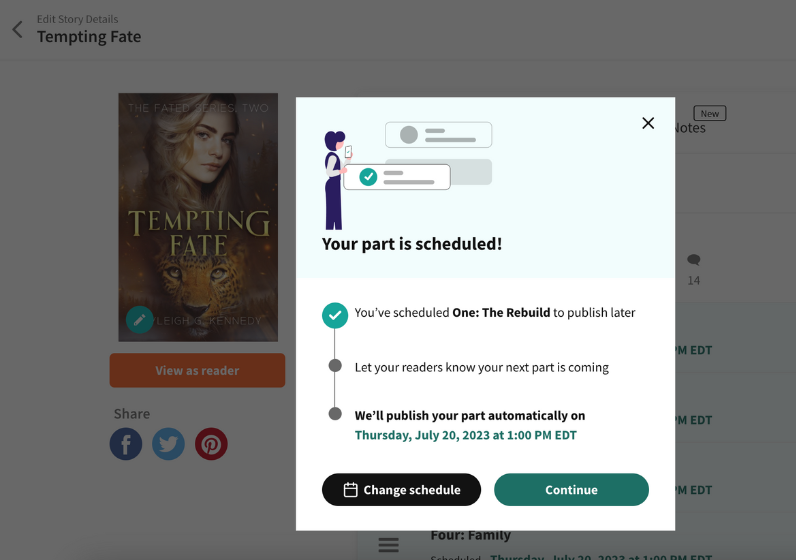 Once you've finished scheduling your parts and click Continue, you'll be taken to the Table of Contents page. Here, you can see all the parts you've scheduled and when they are set to go live. This view is for the writer only—your readers cannot see your upcoming scheduled parts.
*Currently, the Publishing Scheduler is only available on the web. You can, however, view your scheduled parts on the Wattpad app by going into "My Stories". We're working on making this feature available on mobile and will share more details soon!
How the publishing scheduler can help you
We want your writing journey on Wattpad to be as seamless as possible. The Publishing Scheduler will help you to create a steady publishing schedule that your readers can rely on. Consistency is key. Lean in to the beauty of serialized storytelling to keep your readers engaged and coming back for more.
The new tool is also a powerful accountability partner, ensuring you stay on track with your writing goals. Life is full of surprises, planned or not, but don't worry! Even during breaks, your narrative can now continue without missing a beat.
Whether you're a 'panster' or a 'plotter', you can use the Publishing Scheduler to capitalize on moments when your story ideas are flowing. Scheduling your Story Parts in advance gives you peace of mind should writer's block pay you a visit.
We hope this new feature will help you reach your writing goals and improve your reading experience. For more information on the Publishing Scheduler and its usage, visit the Help Center.
There's never been a better time to write a series on Wattpad! Learn how to write a series from Wattpad Creator J.K. MacLaren and use the Publishing Scheduler to keep your readers engaged.