Your story is the result of your hard work and you want to ensure it has the best chance of getting in front of as many readers as possible. Luckily it's not just a shot in the dark. In fact, there's a critical step you can take to increase your story visibility once you're ready to hit publish.
That step is tagging.
Story tags explained
Tags are the key to story discoverability. They ensure your story appears in different locations across Wattpad, from search results to home feeds. With the right strategy, you can optimize your discoverability by using tags that align with your plot.
Popularity. Relevance. Trendiness. User Engagement. These are all factors that influence tag rankings. To develop the Hot List, our algorithm processes a variety of metrics.
Examples of relevant story tags
A futuristic story set in space: #scifi, #spacetravel or #aliens
A YA romance: #love, #romance, #boyxboy, or #enemiestolovers
A mob tale based in 1950s NYC: #manhattan, #mafia, #crime, or #1950s
The hard and fast rules
Tags should be one word and they should give the reader an idea of what they might find when reading your story.
Stories can have a maximum of 25 tags.
Special characters, such as punctuation marks or spaces, cannot be present in tags.
If you are under the age of 17 and you mark your story as Mature, your rankings will not appear on your profile or on the Hot Lists for ranked tags. Readers who are older than 17 will be able to view your story's rankings on the Hot Lists and your profile.
A Quick Note on Mature Stories:
The mature tag ensures that younger readers don't stumble upon stories that are inappropriate for their age. Mature stories are for audiences 17 and up. Give your story a Mature rating if it contains explicit sex scenes, self-harm themes or scenes, graphic depictions of violence, or anything else that isn't appropriate for younger members of the Wattpad community.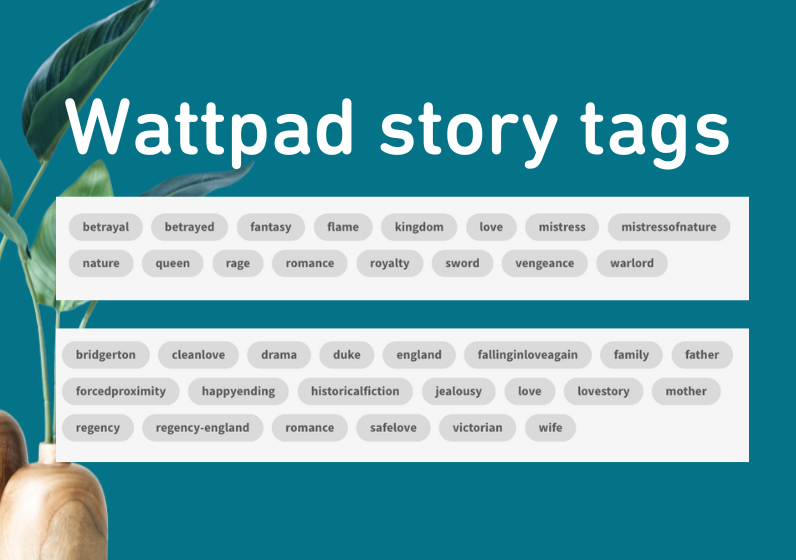 7 strategies for tagging your story
Genre
Genre preferences differ from person to person. While one reader could stay up all night reading historical war-time fiction, another may not get through a single chapter. Before committing to a long read, readers want to know what they're getting into. For this reason, it's important to usher your future fans to you by tagging for genre.
Are you writing a noir (#mystery)? A fanfiction about Niall Horan (#fanfic)? A multi-generational sci-fi epic (#scifi)? Let readers know by tagging the genre of your story.
Subgenre
Stories are multidimensional. Beneath every genre is a subgenre. Piggyback off your genre tags by getting even more specific with ones that address your subgenre. Does your mystery story involve #spies? Are your characters living in #dystopian times? Tag away!
Theme
All great stories have a theme. Is yours #courage? #Comingofage? #Redemption? #Revenge?
Consider the unifying thread that weaves itself throughout your tale and you'll find some relevant tags to include.
Audience
Every piece of fiction has an intended reader demographic. It's in your best interest to identify your audience early on in the writing process. From coming of age #youngadult tales to steamy #mature reads, audience-related tags help your readers discover exactly what they're looking for—it might be your story!
Mood
While some readers love to dive into #angsty worlds, others are looking for a #feelgood story. Help your reader figure out what they can expect from your story on an emotional level by tagging based on mood.
Time and Place
One of the most captivating features of fiction is that it allows us to escape the mundane everyday travel through time and space. Whether your story takes place in an #alternateuniverse, #Paris, or in the #future, your readers will appreciate the heads up!
Wildcards
Consider what makes your story unique from others. Is it a #queerromance? Does it take place at a major #volleyball tournament? Be sure to tag the specifics of your plot to entice readers who otherwise might not have clicked on your story.
At Wattpad, we understand the passion, time, and effort that goes into writing a story. It's important that the right readers find your story. When leveraged, tags can signal boost your writing to otherwise distant audiences.
Ready to put your new knowledge into action? Learn more about the mechanics of tagging based on your device!