How to effectively promote stories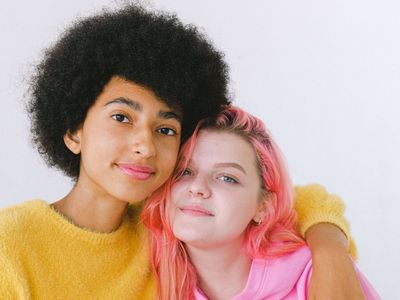 Want to get your story out there, but don't know how? You've come to the right place! Below we discuss how you can promote your story on Wattpad, on social media, and among your inner circle.
Promoting your story on Wattpad
The Wattpad community is extremely supportive. Here are some tips to get Wattpadders to read your story:
1. Follow other writers and read their work
Writers get better by reading. While you work on your own stories, check out some other stories on Wattpad. You can share what you like and offer constructive feedback. The more of a presence you have on a Wattpad, the more likely others are to check your work out, too.
2. Acknowledge new followers
When someone follows you, send them a quick message to let them know how much you appreciate it.
3. Respond to comments and suggestions
Thank or acknowledge people when they make comments and suggestions on your work and stories.
4. Engage others in conversation
You may have more in common with others than you think. Start or join conversations to get to know other creators and readers on Wattpad.
5. Participate in the Watty Awards
The Watty Awards is Wattpad's largest annual contest for completed novels across dozens of categories and in 10 different languages. Bookmark this page for writing tips, submission details, and more.
6. Ask for advice
If you ever find yourself needing help, just ask nicely! You can do this by responding to comments, commenting on stories or boards, or messaging other Wattpadders.
7. Use short and catchy titles
Titles that are too long will give away the whole story, making it less likely to entice Wattpadders to read your work.
8. Update your fans
Keep your fans and profile updated with your latest activity. If you're going to take a break from writing, need help with anything, or are excited about starting a new writing project, your profile is a great place to let others know about what's going on.
9. Remember to add a story description
Your plot synopsis is your readers' first entry into your story. Keep it descriptive, but don't give away too much of your story. Consider it a sample platter of what's to come once Wattpadders commit to reading your story.
10. Keep chapters short
Remember that most Wattpadders are on mobile devices and read on-the-go. Keeping chapters short encourages readers to continue to the end of each one, further encouraging them to come back to finish the whole story. A good ballpark amount for a solid chapter is 2000 words.
11. Serialize
Post 1 to 3 new chapters a week and try to maintain a regular posting schedule (aka serialize!). Be transparent so your readers know what to expect. You could include "New chapters every Friday!" in your story's description, for example.
12. Include a call-to-action
Talk to your readers in the text of the story. Remind them to vote and comment on each chapter, or ask an open-ended question to start a discussion in the comments.
13. End on a cliffhanger
Keep your readers guessing! Cliffhangers give your stories energy and make your readers excited to come back for more.
You can also attract more people to your profile by following these steps to personalize it, ensuring you really stand out as a creator.
Promoting your story on social media
Below you'll find some tips and tricks we've learned from Wattpad's own social channels about what works best when sharing stories externally. Follow Wattpad on TikTok, Twitter, Instagram, and Facebook to see examples of how we're using our own tips when we share your stories.
TikTok
Direct your link in bio to your Wattpad profile or story
Share regular updates with your readers—posting frequently on TikTok is key
Post videos featuring your book cover and discussing your characters
Answer your audience's most-asked questions
Create mood boards and aesthetic montages
Twitter
Add a link in your bio leading to your Wattpad profile or story
Tweet links to stories or reading lists that contain your story
Spread the love by sharing other author profiles and tag the author (they might return the favor!)
Use hashtags (no more than 2 to 3) that are popular and relevant to your Wattpad stories
Instagram
Tag @Wattpad and use the hashtag #Wattpad whenever you're talking about your work
Add a link to your profile or story in your bio
Design graphics like quote art using Canva and remind people they can find a link to your story in your bio
Create Reels following our suggestions in the TikTok section above
It's great to share your content on multiple platforms, but be sure to create videos independently to avoid using TikTok watermarks on Instagram Reels and vice versa
Facebook
Add a link in your bio to your Wattpad profile or story
Post photos from your story, or create imagery and graphics like quote art using Canva
Share videos that are 15 seconds to 1 minute long and remember to link to your story or profile
Check out our press page for Wattpad logos and graphics you can download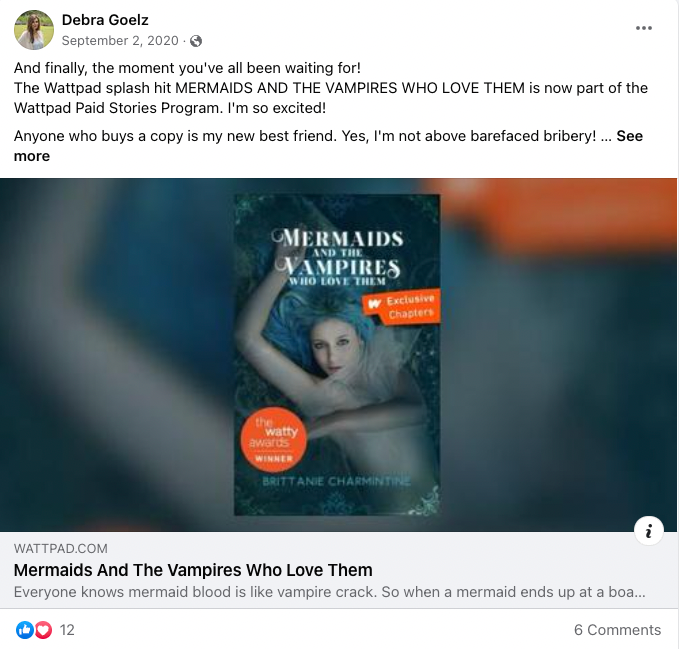 There are many other sites—like Pinterest, Tumblr, YouTube, and Spotify—that are great places to let people know about your work on Wattpad. The more connections you make, the easier it is for people to find your Wattpad stories. Remember to always include a link directing back to your story or Wattpad profile. The more links placed, the more discoverable and visible you become.
Promoting your story to friends and family
Your friends and family are great resources for getting people to notice your work on Wattpad. You can ask them to help you by:
Sharing links to your stories on their social media channels
Sending emails or messages out to their contacts, letting them know about your work and how amazing it is
Telling people in-person about your work—word of mouth goes a long way!
While promoting your story, keep in mind that there are many ways to track how much readers are engaging with you on Wattpad. Be sure to regularly check your read count, vote count, and the number of comments posted on each story part or the overall story. You can also dig deeper by checking your story statistics, which gives you the details on the demographics of your reader base and an overview of engagement with your story in the last 30 days.
Engaging with your audience on Wattpad
Next