Over the last year, we've been focused on discovering new ways for writers to be supported by their audience throughout their entire writing journey.
To make this happen, we've started testing writer subscriptions with a small group of writers on the Wattpad app to reward them in an ongoing way for creating the stories, worlds, and characters that Wattpadders love. We hope that these reader-powered subscriptions will give writers the boost they need to drop more of their written magic that sparks feelings of escape for some and home for others. Subscriptions help writers earn money for sharing their talent, and empower them to create more stories and new chapter drops.
In addition to supporting a writer, subscribers will get unlimited access to all extras the writer chooses to create around their stories including Exclusive Chapters and Writer Reveals. These features give readers exclusive access to their favorite stories, but with longer plotlines, new plot twists, and a behind-the-scenes look into the creative process of the writers they adore. Intrigued? Read more about these awesome features.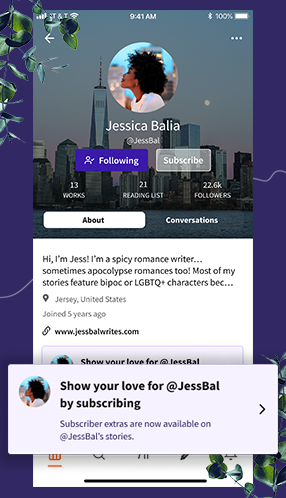 With Wattpad's built-in audiences, writers can continue to invest in and grow their readership on the platform where it all began—all with a supportive community of 90M+ Wattpadders cheering them on along the way.
Writer subscriptions are slowly rolling out in the U.S. on version 9.90 of the Wattpad app. Starting next week, they will become available in the U.K., Australia, and Canada, with more countries added soon. To explore writer subscriptions, update your Wattpad app to version 9.90 or later. You'll notice a "Subscribe" button on the profiles of participating writers. You can also visit our Help Center for more information.
Testing with a small group of writers will help us learn more about how Wattpadders are engaging with subscriptions, allowing us to improve the experience and roll it out to more writers over the course of 2023.
We know it takes a long time to write a story. We hope you're as excited as we are to soon have the opportunity to maximize your earning potential, enjoy the patronage of your readers, and support the writers you love on Wattpad.
Check out our first batch of writers offering subscriptions: @amelierhys, @Believeeexoxo, @blackgirlstoryteller, @greenwriter, @iya_fictional, @mss_amalee, @Rebecca-Jade, @solacing, and @Van_Carley! (Open their profiles in your app and click "Subscribe"). Stay tuned for more writers joining soon.
More from us soon!